Full Examination of the foot and it's function – July – August 2020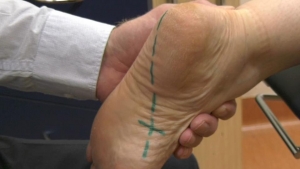 I use research based non weight bearing and weight bearing tests as part of my examination. When this is combined with the plantar pressure analysis it forms a really solid basis for me to formulate a treatment plan I can confidently present to the patient. This webinar course will go through this process in detail.
6 X 60 minute interactive weekly webinars with Question & Answer session.
Content includes:

Patient history and goal setting
Non weight bearing testing
Weight bearing testing
Diagnosis & analysis using plantar pressure, (Mat, Treadmill, Video)
The treatment process
The Review process

Worksheets are provided for participants to ensure understanding and ability to use learned knowledge to gain expected outcomes in your own clinic.
Quiz questions are included with each session to demonstrate your understanding and to receive an Achievement Certificate at the completion of the course.
Bonus
30-minute one on one online consultation to assist you to best use the content in your own practice environment and patient caseload.
$200 USD